EDUCATION/CERTIFICATIONS
B.A Geography, University of New Hampshire
AMERICAN ACADEMY of PERSONAL TRAINING, GRADUATE
AMP MODEL OF HUMAN PERFORMANCE, INTERNSHIP
CHEK PROFESSIONAL
EXPERIENCE
My journey into the fitness industry began with a desire to heal myself. I worked in an office for years, and accumulated many aches and pains, so I understand what it's like to lose confidence in one's ability to move. I have mentored under several physical therapists and worked with clients of varying ages and movement abilities. Wherever you are on your health and fitness journey, I would love to help you take it to the next level to reach your goals.
TRAINING PHILOSOPHY
I believe that when you move well, you feel well. There is no part of the body that works in isolation, so I train my clients with a holistic approach that involves creating a solid foundation, incorporating movement variability, and cultivating full body awareness. Ultimately, I aim to support my people by creating safe and effective exercise programs that can help them achieve their personal health and fitness goals. Movement is medicine!
CLIENT TESTIMONIAL
"Dave has been the best personal trainer I've ever had! He is clearly passionate about his work, and unquestionably patient and professional. He has extensive knowledge of human anatomy and physiology and uses that understanding to create diverse exercise programs that have helped me achieve my fitness goals. In each session, I find Dave to be easy to understand and focused on my progress. He's always teaching me something new! A year ago, I would never have imagined myself to be as strong and in the shape as I am today, and I have Dave to thank for that!" -Shelby N.
EDUCATION/CERTIFICATIONS
B.S Applied Exercise Science; Springfield College
NSCA-CPT
TRAINING PHILOSOPHY
I believe in educating an individual in body, mind, and spirit. The beautiful thing about exercise is it has the ability to help an individual to grow within all aspects of their life. I aim to create a comfortable training environment that empowers each client to find their place in fitness and beyond.
EDUCATION/CERTIFICATIONS
B.S Biology; Boston College
NASM-CPT
EXPERIENCE
I've been a personal trainer since 2019. After learning basic resistance training techniques in high school, I was determined to learn everything I could in the next 6 years. I majored in Biology because I was interested in the fitness and biomechanical aspects of the human body.
TRAINING PHILOSOPHY
I believe that movement is medicine. I love watching as people are able to move better and become stronger and healthier. I'm a firm believer in falling in love with the process of exercise, incorporating it into a daily routine and eventually using what you learn in the gym to improve and enhance your life outside of it as well!
EDUCATION/CERTIFICATIONS
NASM CPT
PRE/POST NATAL
EXPERIENCE
Fitness came into my life when I needed it the most. As a child I always struggled with self-confidence, anxiety and unhealthy eating habits. It wasn't until my mid-twenties that I realized I needed to take control of my life and make a lifestyle change. I began spending time in the gym and was instantly hooked. I eventually decided that I wanted to make it my career and help others who were struggling with the similar issues. During my time as a trainer, I've worked with an array of clients, focusing on weight loss, strength gains, and wedding prep. My training style includes, strength training with a mix of interval training, for fun and effective workouts.
TRAINING PHILOSOPHY
I find joy in helping clients achieve a balanced lifestyle by embracing all aspects of health and wellness. I aim to create a training environment that motivates and empowers individuals to improve their quality of life in a fun and rewarding way. Sets goals, train regularly, work out to be strong and keep it enjoyable. After all, life is your biggest challenge, so train to win it!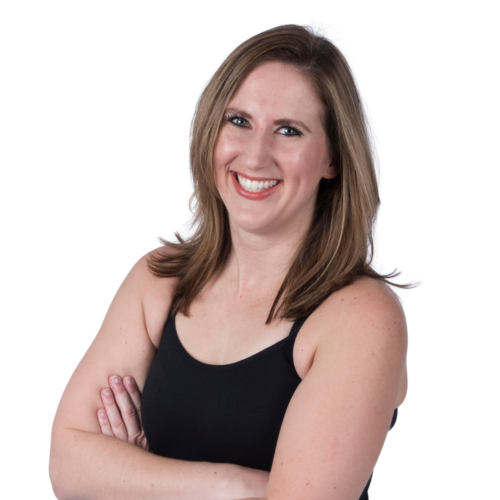 EDUCATION/CERTIFICATIONS
B.S. BIOLOGY
AMERICAN ACADEMY of PERSONAL TRAINING, GRADUATE
CERTIFIED PERSONAL TRAINER, NASM
CERTIFIED FITNESS NUTRITION SPECIALIST, NASM
CORRECTIVE EXERCISE SPECIALIST, NASM
CERTIFIED DANCE INSTRUCTOR
AREAS OF EXPERTISE
Strength Training, Corrective Exercise, Weight Loss, Stretching and Flexibility
TRAINING PHILOSOPHY
Personal training helps individuals of all ages and backgrounds find their physical and mental strength. A focus on strength and conditioning as well as functional training can prevent injury and improve quality of life. By striving towards personalized fitness and nutritional goals, a healthy lifestyle and sense of well-being can be achieved.
EDUCATION/CERTIFICATIONS
NASM CPT
AREAS OF EXPERTISE
Strength training, weight loss, weight lifting, taking the intimidation out of the weight room
TRAINING PHILOSOPHY
It's always the right time to start this journey. The gym might seem like an intimidating place, but I see clients face and conquer those feelings all the time. Getting stronger is a process. Each lift, each set, each day in the gym teaches your body how to cope with challenge and endure. Training is simply learning to move through systematic and progressive challenges, then letting your body adapt to those new demands.
EDUCATION/CERTIFICATIONS
BA Sociology, Regis College
Cancer Exercise Specialist; Diploma of PT/Certificate of Nutritional Counseling, NPTI; Certified Personal Trainer; NSCA; Kids in Motion Certified; Kettlebell, TRX, Body Align, Vipr and Functional Movement Screen (FMS) Certified
AREAS OF EXPERTISE
Individualized goal focused fitness programs for all fitness levels, Weight Loss/Management, Functional Movement and Corrective Exercise, Balance and Posture, Circuit/Interval Training and Core Strength
TRAINING PHILOSOPHY
Strong movement patterns stem from a strong core and a functionally moving body. Making small realistic changes in fitness and nutrition, sticking to it, and recognizing accomplishments, leads one down the path to achieving overall health and personal goals.
EDUCATION/CERTIFICATIONS
MS Sport Management, Ithaca College, BS Clinical Exercise Science, Ithaca College
NSCA Certified Personal Trainer
TRX TEAM
Pre/Post Natal
ViPR and Body Align Certified
AREAS OF EXPERTISE
Weight loss, muscular development, performance enhancement, sports-specific training
TRAINING PHILOSOPHY
My job is to help people improve their relationship with their body. Through good practice and fun, you'll realize potentials you didn't know you had. The fun thing about fitness is there is no ceiling to those potentials, you can always improve.
EDUCATION/CERTIFICATIONS
M.S. Physical Education/Exercise Science; Bridgewater State University, 2008
Body Training Systems - Group Power
Pilates Institute of America - Pilates Mat 1
Cancer Exercise Specialist
TRX Team Certified Coach
EXPERIENCE
Beginner Exercise Training, Guidance, and Motivation; Weight loss, Strength and Conditioning, Orthopedic Rehab and Recovery, Balance and Stability, Core Strength and Engagement, Cardiovascular Conditioning and Improvement, Flexibility and Recovery
TRAINING PHILOSOPHY
Robbie has been working as a fitness professional since 2003. He has experience with strength and conditioning Division 1 athletes at Northeastern University. He also has experience at Brockton Hospital conducting phase 2 and 3 cardiac rehabilitation. Robbie has an extensive orthopedic recovery and rehabilitation background training client's post-physical therapy from Physical Therapy at Dedham Health. He is skilled with youth training programs for competitive sports and recreation. He is knowledgeable and passionate about training adults looking to improve strength, stamina, speed, or conditioning. Whether you are beginning your journey towards a healthier lifestyle, getting back into your best shape, or looking to push your limits and reach your newest fitness goal Robbie will be your trainer to guide and support you every step of the way!
EDUCATION/CERTIFICATIONS
Graduate of the American Academy of Personal Training – Boston
ASCM Certified Personal Trainer
Pre/Post Natal
AREAS OF EXPERTISE
Functional Movement, Strength, Speed, Agility, Cardiovascular Endurance, Core Development, Posture Improvement, Weight Loss, Balance and Flexibility Training
TRAINING PHILOSOPHY
I believe any individual's basic level of physical fitness should be the ability to navigate daily tasks without undue fatigue as well as the capacity to overcome unforeseen situations. Yet the principles of my training philosophy are founded in your perception of personal wellness. Whatever your goals are, I can develop the proper program to get you there! All I require from you is faith, time and commitment.
EDUCATION/CERTIFICATIONS
BS Health Education - University of Illinois
ACE Certified Personal Trainer
U.S.; Soccer Federation "A" License
TRX Suspension
Pre/Post Natal
AREAS OF EXPERTISE
Weight loss, Strength Training for All Levels, Interval Training, Athletic Preparation
TRAINING PHILOSOPHY
My goal as a trainer is to encourage, support, and challenge you to meet your fitness goals. I want you to leave my session feeling like you gave everything but energized to take on anything life may throw at you. Through hard work and dedication the sky is the limit!
EDUCATION/CERTIFICATIONS
St. Louis Community College (Ireland)
NASM CPT
Pre/Post Natal
TRX
AREAS OF EXPERTISE
Strength and Conditioning Training, Weight Loss Training, Resistance and Reactive Training, Circuit Training, Balance and Flexibility Training, Cardiovascular Endurance Training
TRAINING PHILOSOPHY
Above all I believe in a balanced lifestyle. I believe that a good night's sleep is just as important as a good work out and a healthy diet is just as important as some down time for yourself. I develop programs for my clients that are goal specific, challenging and fun! I work with an energy that is contagious and I push my clients every day to be the best they can be. I believe in the importance of change and adaptation! One of my mottos is "If you keep doing what you've always done you will get what you've always got!"
EDUCATION/CERTIFICATIONS
ACE-CPT
TRX R4,TRX Injury Prevention, TRX Rip Trainer
Pre/Post Natal
USAW (Olympic Lifting)
Assisted Stretching
EXPERIENCE
I have been a personal trainer for 10+ years. Prior to becoming a trainer, I was a Division I athlete in both field hockey and lacrosse. I also was a collegiate coach for several years at the DIII and DI levels.
TRAINING PHILOSOPHY
My favorite part of my work is helping people see how much fitness can truly change every aspect of their life in truly positive ways. My philosophy is so look at the whole person, not just the physical, to be their guide to a healthier and happy self. The journey is the destination.